SAMUEL GUARNACCIA, composition
CAMERON DAVIS, visual art
EMERGENT UNIVERSE ORATORIO
September 15th, 2013
Event Principals:
Cameron Davis, Artist
Paula Guarnaccia, Producer, BePeace Teacher, Certified HeartMath Educator
Samuel Guarnaccia, Composer
Steve Olson, Conductor
The original Emergent Universe Oratorio premiere was held in the unique Breeding Barn at Shelburne Farms, Vermont, a National Historic Trust building which was at one-time the largest open span wooden structure in America. Shelburne Farms is a 1400-acre working farm, and nonprofit environmental education center located on the shores of Lake Champlain.  Shelburne Farms was a key partner for the event which attracted an audience of over 1,200 people.
Other Event Partners:
The American Teilhard Association: Emergent Universe Oratorio Sponsor
The ATA, since its foundation in 1967, is committed to making the thought and vision of Teilhard more widely available. the Association seeks to bring an encompassing perspective to this great task of shaping the well-being of the Earth community at a time when so many disintegrating forces are at work. Teilhard's vision of the sequential evolution of the universe provides a firm and inspiring basis upon which to envision a sustainable future. This vision flows through his unified narrative of the evolutionary sequence of the emerging universe – the galaxies, the solar system, the Earth with its living forms, human history, and humanity's place in the evolving cosmos. This narrative from its origin to the human phenomenon can provide a firm and inspiring basis upon which to proceed. Now, for the first time, humanity is converging towards a new unity in diversity in shaping a multiform planetary civilization. To assist in this work, the Association, since its foundation in 1967, has sponsored annual conferences, lecture series, and a variety of publications.
www.teilharddechardin.org/index.php/event
Shelburne Farms
Shelburne Farms is a nonprofit education organization whose mission is to cultivate a conservation ethic for a sustainable future. Our campus is a 1,400-acre working farm and National Historic Landmark on the shores of Lake Champlain in Shelburne, Vermont.
We care about the sustainability and quality of life on earth. We care about young people having hope for the future. We believe that sustainability is grounded in individual awareness and action in our own communities.
We offer learning experiences that inspire young people to make informed decisions to build a sustainable society in the 21st century.
We steward and share our working landscape and historic property in ways that are environmentally, economically, and culturally sustainable, using it as a campus for learning.
We collaborate with educators, schools, and other partners to learn from each other so that we can transform education and extend our collective impact around the world.
The Breeding Barn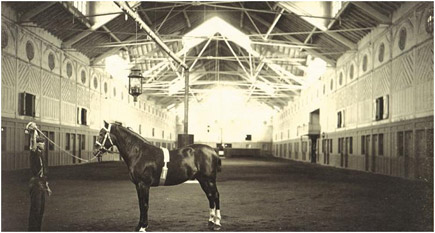 Its interior hall was the largest open-span wooden structure The magnificent Breeding Barn is being structurally stabilized to become a future three-season gathering hall for educational, agricultural and community uses.
It was built from 1889 to 1891 to showcase W. Seward Webb's grand horse breeding operation. With an interior exercise ring 375 feet long, it was the largest open-span wooden structure in America until 1939.
Seward's dream was to breed an ideal Hackney horse for Vermont farmers, but by 1904 the enterprise had largely failed. In 1913, Seward and Lila Webb deeded land that included the Breeding Barn and Old Dairy Barn to their eldest son. The Breeding Barn was then used sporadically for fox hunts, polo, hay storage and to shelter cattle.
In 1994, Shelburne Farms reacquired the two magnificent barns and 400 surrounding acres. Work then began to save the Breeding Barn, reinforcing its structure and replacing its roof.
www.shelburnefarms.org/about/our-campus/the-breeding-barn
All Souls Interfaith Gathering
Awakening to Transformation through Art, Education & Spiritual Practice
Transformation to a sustainable future requires awakening to new ways of being. Fran Stoddard, former Vermont Public Television host of Profile, moderates a three-part series exploring this idea with luminaries from our community, in advance of The Emergent Universe Oratorio premiering September 15, 2013 at Shelburne Farms.
The Forum on Religion and Ecology at YALE
The Forum on Religion and Ecology is the largest international multireligious project of its kind. With its conferences, publications, and website it is engaged in exploring religious worldviews, texts, and ethics in order to broaden understanding of the complex nature of current environmental concerns.
The Forum recognizes that religions need to be in dialogue with other disciplines (e.g., science, ethics, economics, education, public policy, gender) in seeking comprehensive solutions to both global and local environmental problems.
Institutional support for the Forum includes: The Yale School of Forestry & Environmental Studies, Yale Divinity School, Yale Center for Bioethics, Yale Institution for Social and Policy Studies, the V. Kann Rasmussen Foundation, the Germeshausen Foundation, the Kendeda Sustainability Fund, and the Thomas Berry Foundation.
Lake Champlain Waldorf School
"Profound gratitude to the Lake Champlain Waldorf School for its extraordinary support of the EUO project: the participation of many Waldorf singers and instrumentalists; the indescribable gift of music director Steve Olson, Conductor of the EUO Premiere; allowing us to use equipment, facilities, and innumerable other in-kind privileges; the kind and inspired support of Waldorf families, friends, staff, and students."